Black Coal, Thin Ice (China, 2014)
5 April, 2014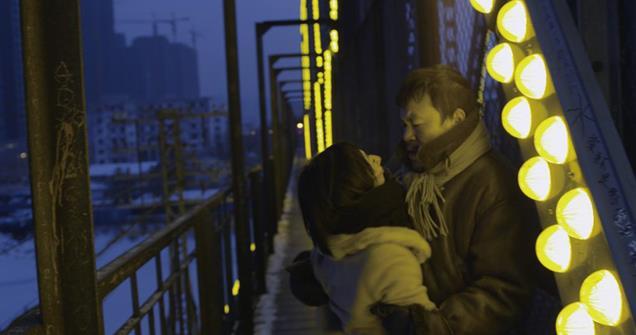 The surprise winner of the Golden Bear at the Berlin film festival, Black Coal, Thin Ice marks a belated breakthrough for writer-director Diao Yinan following Uniform (2003) and Night Train (2007), a pair of well-received but little-seen character studies concerning the nature of deception. Developed over the course of eight years, this third feature finds Diao working within a strict genre framework for the first time and delivering a largely accessible film noir that still evidences deliberate links to his earlier work. Set in Heilongjiang province in northeast China, the tangled narrative starts in 1999 with Detective Zhang Zili (Liao Fan) struggling to accept that his wife Su Lijuan (Ni Jingyang) wants a divorce when he is assigned the task of cracking a horrific case. Body parts have been found scattered across a wide radius, with discovery of an identity card revealing the victim to be a worker from a local coal plant. Two suspects are identified, but what should be a routine arrest soon turns tragic with a gun battle leaving several officers dead and Zhang seriously wounded, although the case at least seems to be closed. In a stunning transition shot that begins as Zhang is being driven home from the hospital, events move forward to the depths of winter in 2004: an overweight Zhang has left the force to become a security guard, a menial position that he is able to hold on to despite bouts of heavy drinking due to his law enforcement record. However, when his former colleague Wang (Yu Ailei) tells him about a current murder case that has striking similarities to the 1999 case, Zhang decides to embark on a private investigation.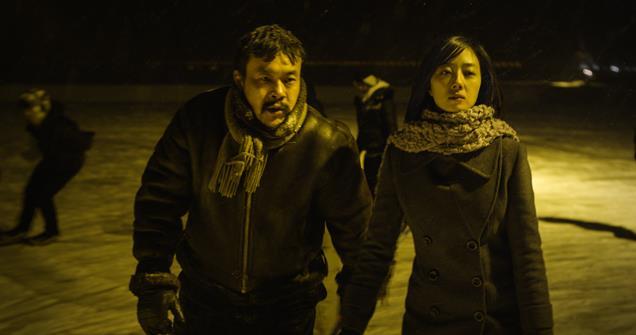 It's a standard set-up for a thriller that establishes Zhang as the typical flawed hero with personal demons in need of redemption. Diao soon pulls out another archetype in the form of possible 'Black Widow' serial killer Wu Zhizhen (Gwei Lun-mei), the wife of the 1999 victim who Zhang begins following in the belief that she holds the key to unlocking the mystery. It is here that Diao playfully revisits Uniform – in which a laundry shop attendant pretended to be a police officer after a state servant did not collect his work shirt – as Wu is also an employee of a cleaning business and a jacket that was never picked up again becomes a crucial plot device. A bit of role play occurs as Zhang pretends to just be a concerned customer when Zhizhen realizes she is being followed due to his rusty technique. Zhizhen is perhaps too vulnerable to be categorized as a fully-fledged femme fatale, but is certainly alluring enough to attract Zhang with her combination of natural beauty, tragic backstory, and present circumstances of being stuck in a dead end job with a seedy boss (Wang Jingchun). Diao's earlier films aimed for neorealism with their unfulfilled protagonists framed against grim industrial backdrops commonly associated with Jia Zhangke, but here presents a neon-lit abstraction: the procedural of Black Coal, Thin Ice is less rooted in a specific locale with a sense of doomed romanticism hanging in the polluted air and moral decay illustrated through gaudily-lit interiors. He also includes obvious nods to The Third Man (1949) with the use of the classic zither theme, a Ferris wheel serving as an intimate space for revelations, and a suspect's romantic devotion to Zhizhen being used to lay a trap that results in a police pursuit.
If the whodunit plot is unnecessarily convoluted, the film excels in terms of mordant humor. A shoot-out in a salon, covered mostly in master shot, reflects the near-farcical manner in which violence can occur in real-life as a suspect turns out to have a gun and all parties react clumsily, while the town is depicted less as a realistic community than as a set of spaces that are emblematic of the free market impulses that have spread beyond China's major cities. Broadly sketched side characters such as an internet entrepreneur and a nightclub proprietor have come into considerable wealth but do not seem to be any happier for it: the former places risky bets on football matches as a means of passing the time, while the latter is a caricature of nouveau riche tastelessness. Yet the film's tonal balance is best exemplified by Liao's terrific central performance as the out-of-shape sleuth whose obsessiveness is offset by his often comical appearance: the wintery terrain on which Zhang conducts his investigation slows him down, with the ex-cop's lumbering frame often landing flat on the ground when he should be closing in on his quarry. Taiwanese actress Gwei is less convincingly transplanted into the provincial surroundings, although the use of her luminous star appeal makes sense if considered as part of the heightened ambiance that the director is going for. The decision of the Berlin judges in a politically significant year may have unnecessarily raised expectations for a film that is more sly thriller than grand statement, but Black Coal, Thin Ice will surely delight genre aficionados by deviously reconfiguring its anonymous mining town milieu as a treacherous playground for classic noir tropes.
About The Author
John Berra
John Berra is lecturer at Tsinghua University. He is the editor of the Directory of World Cinema: Japan (Intellect, 2010/12/15) and co-editor of World Film Locations: Beijing (Intellect, 2012) and World Film Locations: Shanghai (Intellect, 2014). He has contributed to Electric Shadows: A Century of Chinese Cinema (BFI, 2014), Ozu International: Essays on the Global Influences of a Japanese Auteur (Bloomsbury, 2014) and Killers, Clients and Kindred Spirits: The Taboo Cinema of Shohei Imamura (EUP, 2019).